Main content starts here.

Dining
Shizuoka with the finest of spreads: typical Japanese, famous regional, and very local dishes—and confectionery!
Shizuoka is known for its seafood dishes that use the freshest marine produce, as well as eel. In addition are numerous types of cuisine, including folksy local cooking—plus confectionery—that use green tea, wasabi and other of the area's trademark products. Shizuoka prefecture is also rich in local sakes, blessed as it is with underground water from Mt. Fuji, the Southern Alps and other mountain ranges. Find the flavors that impress your palate in this treasure trove of culinary culture, Shizuoka.
Japanese food as served only in Shizuoka.
Shizuoka's rich ocean resources and lush mountains make for a wide variety of Japanese food to enjoy, such as sushi and kaiseki cuisine using fresh local produce, and creative cookery that showcases the chef's skills. The special teas are not just for drinking - there's plenty of cuisine that uses them too. Discover the flavors of Japan in the delightful seasonal produce of Shizuoka.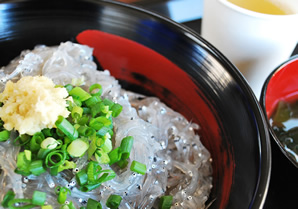 Caught from Japan's deepest bay: Suruga (approx. 2,500 m deep). Superb great tasting seafood straight out of the ocean.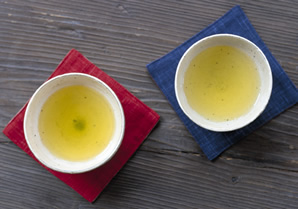 Shizuoka is Japan's No.1 green tea prefecture. There are tea plantations everywhere, each with their own aroma and taste, for your enjoyment.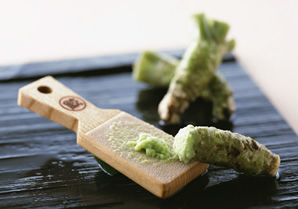 Fresh wasabi is notable not only for its spiciness, but its flavor.
There are numerous places throughout Shizuoka where you can sample this flavor for yourself.